As posted in armorama's "Mighty 88"-campaign
June 15 2009
The Hornisse was given to me by a friend more or less halfbuilt.
I have done some more on this vehicle. I added the tracks and without any directions on the assemblyguide, I had to make a guess on how much I would need.
On some pictures you can see quite some sag in the tracks and I tried to replicate that.
On the left one I went a bit overboard, using 104 links, ending up with to much sag. On the right side I used 102 and this looks a lot better.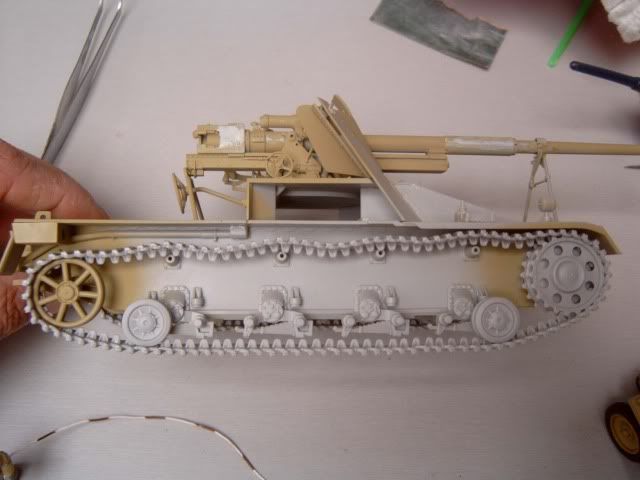 I have been thinking about what to do with this vehicle. Putting it on a shelf on it's own would mean no challenge and a hazard of loosing intrest in this build all together.
So I decided I would pair it up with my SdKfz 250/8-build for the "get the job done"-campaign, would mean it could star in my first multi-vehiclediorama!
The scene depicts a couple of vehicles being camo-painted in the field and all the figures and assets came from the sparesbox.
July 16, 2009
(The townsquare are shown in a seperate post as is the Sd.Kfz.250/8)
With the townsquare and the 250/8 done, I turned my attention to my '88.
I did the interior, painted the outside, applied the first washes and added the tracks.
On to the next load of washes, drybrushes etc.etc....
August 12, 2009
I've been busy painting figures, so I would like to introduce to you:
Sprüh-Hans (Spraying Hans)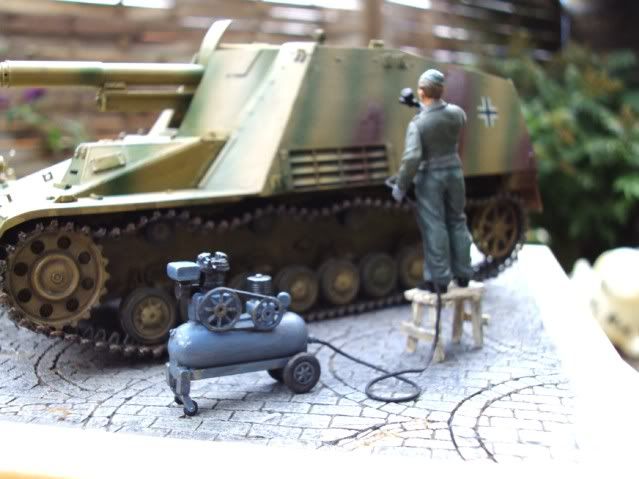 His (scratched) stool and equipment:
And Böser Bertram (Angry Bertram), the weaponschief;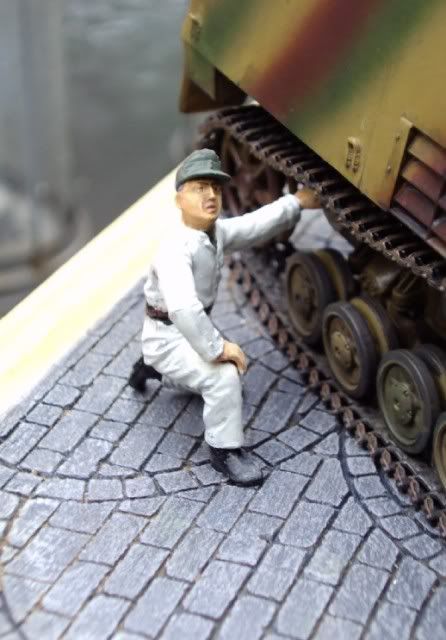 I did a third figure (Laughing Ludwig), which can be seen in the "Get the job done"-campaignthread.
Only 3 more figures to go + all the gear and I can c

omplete the
dio!
november 12, 2009
I have given it the title "Falsche tarnung, Herr Leutnant!" (wrong camouflage, Lt!)
Being my first multi-vehicle dio, it was kind of hard to keep focussed and I did loose interest in it in the end. I guess I'm more of a small dio/vignette kind of builder.
I added the last figures, bits and pieces, so it looks like this now;
The front;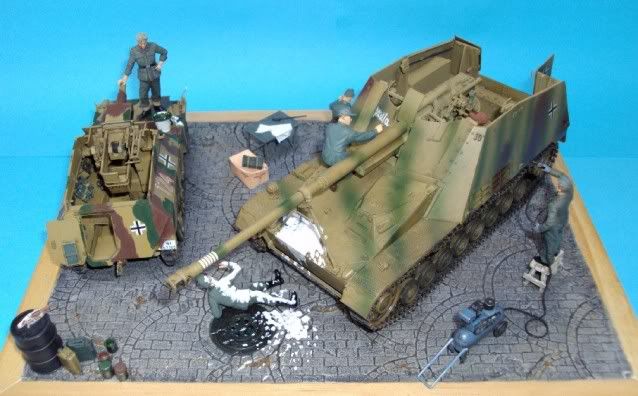 the back;
from the top;
The focal point;
And some of the accessoires in the front;
The paintcans are complete made up...