june 19, 2009
Right now I am working on a sd.fz.250/8, next to a Hornisse, which is having a make over. These 2 wil be put together in a diorama, which is going to represent a fieldworkshop/paintshop.
To not do the usual, I wanted to place the scene on a marketsquare, in a city somewhere in Europe.
The marketsquare turned out like this;
The base is cast in plaster and the patter is carefully scribed into it.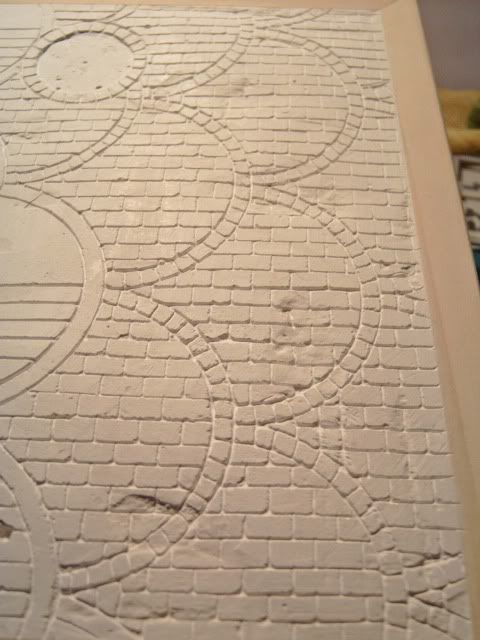 After that I painted it all in a diluted paintmix of black, white and blue to give the cracks a deep colour.
This resulted in a pretty good 3D-effect, so I just finished it all off with some thin layers and drybrushes in grey, mixed with browns, greens, white, yellow and oker. The place where the vehicles will be put were not drybrushed with white and oker, so they are darker.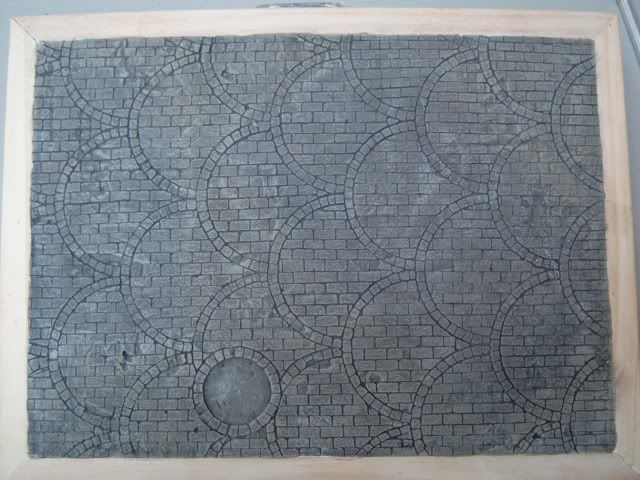 june 23, 2009
Than I made the manholecover. After googling a bit I noticed that old(er) manholecover were often quit eleborate, especially in larger and older cities. This gave me the idea to dive into my sparesbox to see what I could come up with. I ended up with a Panthersprocket, a Dingowheel and a hatchring from a Crusaderturret. After a few hours of sanding, fitting, turning, measuring and restarting all over again, this was the endresult.
Inner circle; the innerpart of a Crusader idler (hence the restarting), than a rim of plasticcard, than the rim with bolts from the Pantersprocket, followed by the mentioned hatchring. Finally a cut to fit ring of plasticcard.
Painting was done with panzergrey as a base followed by a layer of bronze, both by Vallejo.
Next were 2 thick washes with lamp black and 2 with viridian (green).
The cover was put in place after I did the depression with lamp black, too. The result was unsatisfactory, because it lacked depth.
I then went for a drastic solution; I cut a hole straight through the base! I covered the bottom with thick black cardboard and gave that a good layer of clear varnish. Now it had depth!
depth! Finally I used my homemade basecovering item, dried, ground and seaved soil, and brushes that into the crevasses. A few tufts of grass and some pebbles and it was done.
This market square is commercially available at
Reality in Scale
from the Netherlands