As posted in Armorama's "Get the job done a
gain"-campaign
februari 21, 2009
a sd.kfz. 250/8; this was given to me halfbuild and I will try to finish it, along with the other things that are going on.
june 15, 2009
This is what it looks now;
I started experimenting with the ammobin.
I saw several sollutions for the ammoproblem in this cramped vehicle, but none seemed logical to me. This is what I came up with, a similar solution as the Sd.Kfz. 251/22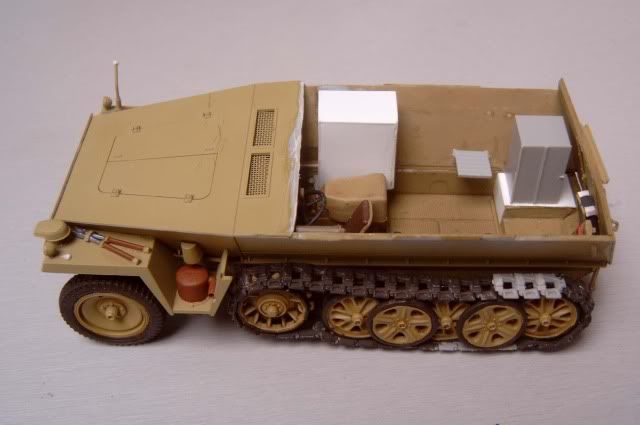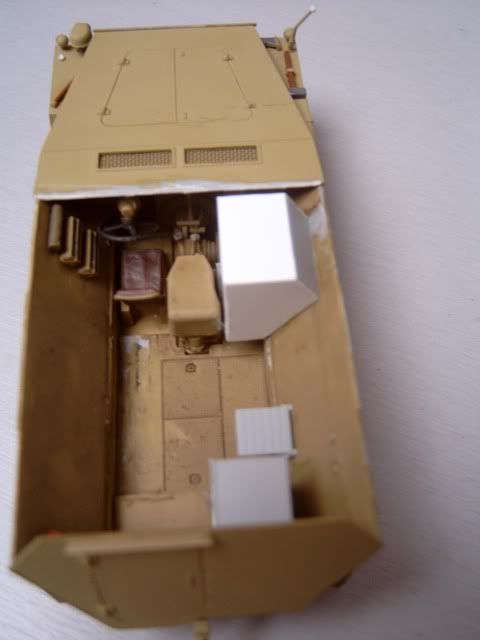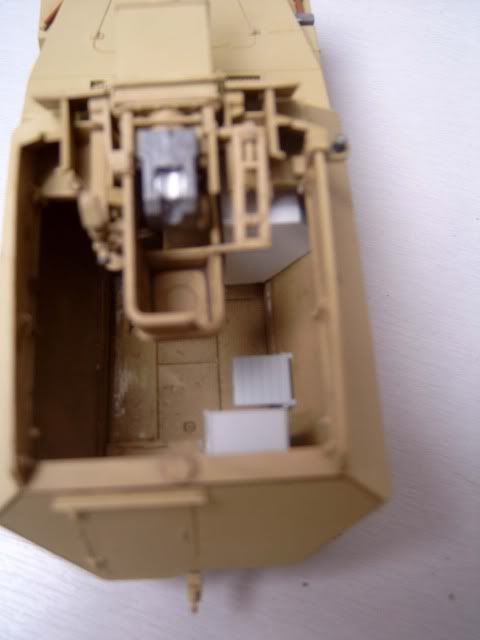 I also re-attached the tracks, which had to be put together from original parts and sparesboxparts.
I also came up with an idea to create a setting to put the vehicle in.
It is supposed to show a vehicle, being camopainted in the field. A little accident happened and one of the crew got covered it the paint.
This is the initial idea: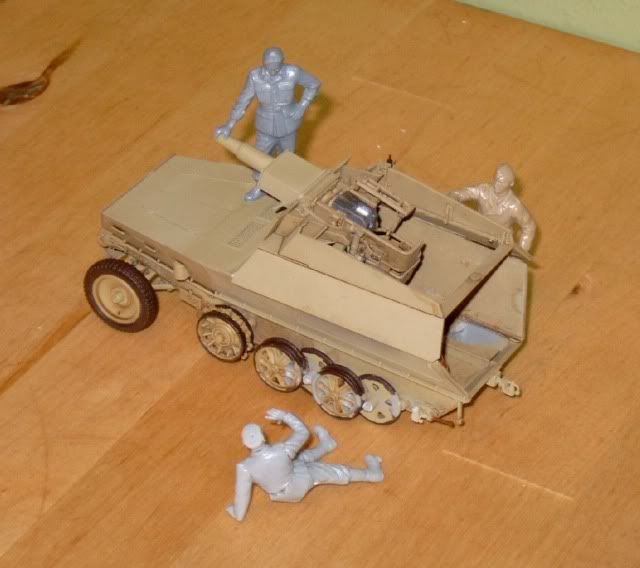 On the other hand, I am building a Sd.Kfz.164 Hornisse for the Might 88-campaign. I had no idea what to do with it, so I added it to the scene, making it look like this;
Scene 1;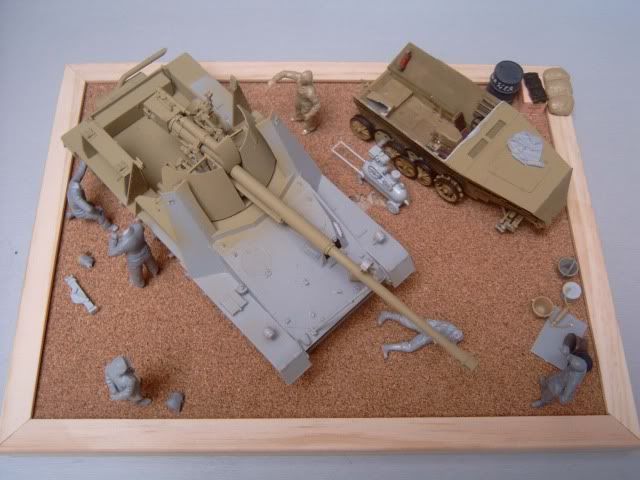 Scene 2;
Everything you see comes from the sparesbox; figures, equipment, etc.
july 6, 2009
I've been tinkering with my 250/8 too, adding odds and ends.
I added some PE too and it isn't all that hard, but I keep it simple.
The right topside got an MG42 with sparebarrelcontainer and a weaponmaintenancepouch. The MG-fasteners were homemade by using leftovers.
I also added the cable for the antenna, which runs from the antenna across the roof to the radio in one piece.
The left topside got a homemade gunbarrel cleaningrod and some wiring for the radio.
The interior received alot of things, such as ammoboxes, personnel gear and foldable seats. I thought the interior looked quite empty, so I added some gasmaskcontainers too.( I saw this in a restored 250/3)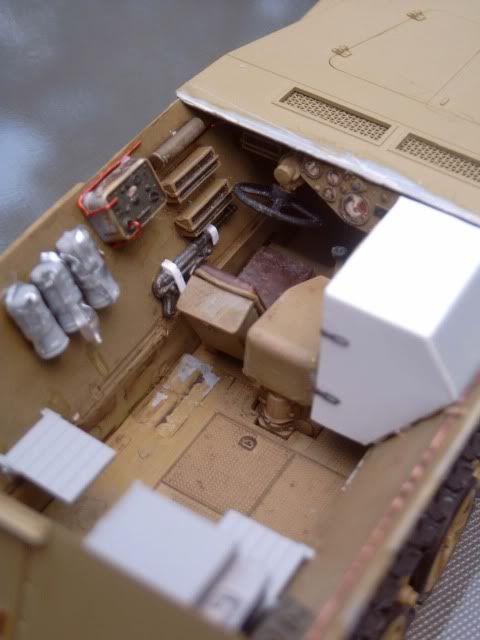 Now all I have to do, is paint the damn thing!!
july 10, 2009
My 250/8 is nearing completion!
I assembled it, painted it, added decals and will start with weathering sometime this weekend.
I went for markings of the 19. Pz.Div., because they appearently did receive some 250/8's.
Here are the pictures;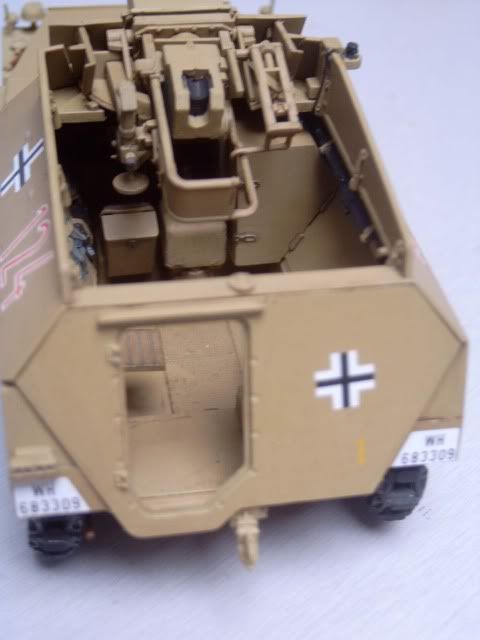 july 11, 2009
I wanted it to have a sloppy paintjob, done by a uninterested trooper.
Weathering is kept very light, as it is supposed to be a failry new vehicle, being camo-painted it the field.
Here's what it turned out like;
the vehicle's left side;
it's right side;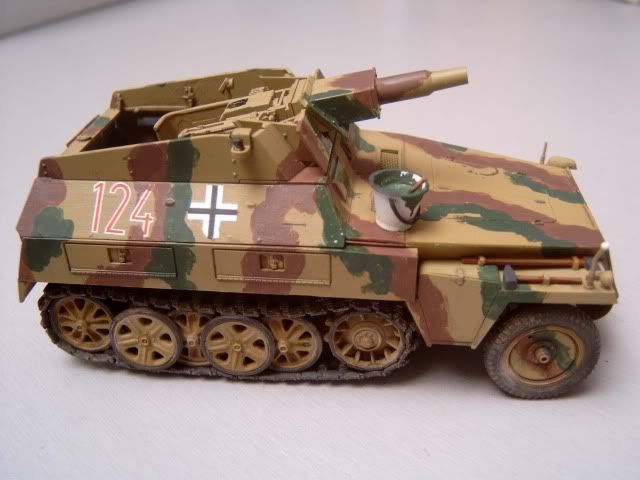 and the hood, gun and bucket of paint;
july 16, 2009
I did do some last touch ups on my 250/8.
I added some more washes, some drybrushes and redid the "paintjob" so it looks more like a brushed on paintcoat.
I think the extra work paid off and consider this one done!
And with the accompanying figure for the dio later on;
august 12, 2009
The figure for my Sd.Kfz.250/8 is done, too.
Just a few more things to do and I can complete the dio it is placed in.
Meet "Lachender Ludwig"(Laughing Ludwig)