januari 1, 2010
As taken from the "Over the top"-campaign on Armorama;
I have started on a base already, but that one has a commercial background.
I will however display my figure on the master, so I thought I could share it here with you guys.
It shows part of a trench with wooden planks to walk and stand on and woven branches to keep the dirt in place. The sandbags are made from real teabags and the wooden beams are pieces from last year's fireworkrockets.
I used a lightweight wallfiller as basematerial.
The teabags are made of a fine type of cloth and the stitching was there too, giving me the idea of using them as sandbags. I cut them in half lengthwise, took out the tealeaves and rinsed the bags. The colouration came naturally.
Then I filled them up with a mixture of very fine grid and diluted pva glue (1:1), giving them weight and then stacked them, while they were still wet. This way I wanted to achieve the look sandbags have when stacked; pressed into one another, edges leaning to eachother etc. Then I left them to dry and I am now finishing off the backside; filling it with a wallfiller and sanding the back to a smooth surface.
The sandbagwall;
The planking and woven branches;
The branches on the base;
An idea of how it will be;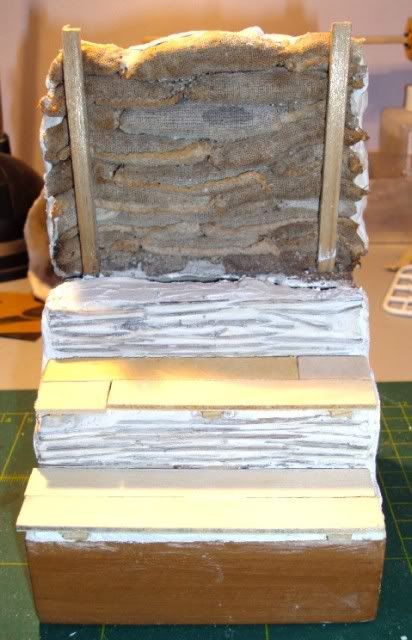 The components grouped together;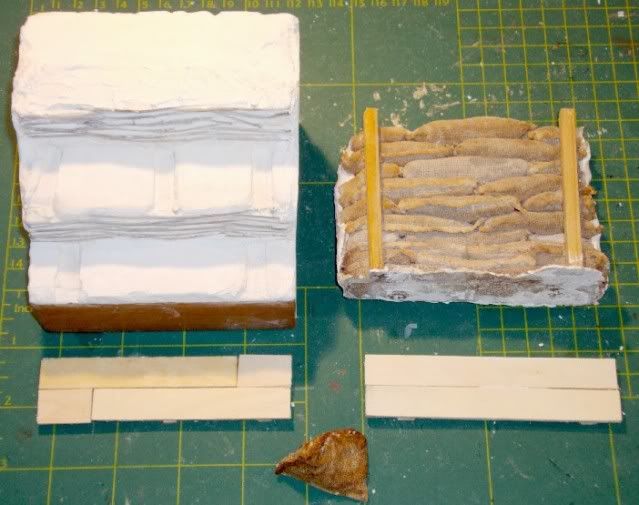 It isn't finished yet, nut you get the idea.....
march 5, 2010
I basecoated the figure in Vallejo's English uniform and gave the base a wash of raw umber. I also made some accessoires such as roles of barbed wire, barbed wire poles and an extra sandbag, which was a left over, but it breakes the straight lines quite nicely.
I also found a mug in my sparesbox. The helmet comes with the figure and the square piece of putty will become a gasmaskbag....hopefully.
The barbed wire. This was made by cutting of strings of a nettingbag, in which fresh garlic is sold.
The base with everything in place;
And the base without figure, but with accessoires;